In-House Dental Wellness Plans
An uncomplicated alternative to traditional dental insurance
Glaser Dental's Wellness Plan is an annual prepaid savings program for routine dental care.
Our plans are designed and administered by Glaser Dental to simplify your access to quality dental care.
NO predetermination, annual maximums, deductibles, exclusions, or waiting periods.
You will also get an 11% discount on all other dental procedures.
Note: This plan can not be used in conjunction with traditional dental insurance.
For patients with healthy gums to maintain their oral health.
(ADA code 1110 tooth cleaning)
2 Hygiene Visits
2 Professional cleanings
1 Exam with Dr. Glaser (minimum)
1 Emergency exam with Dr. Glaser
Save $128/year with
$528 annual payment
For patients seeking care and
maintenance for gum disease.
(ADA code 4910 tooth cleaning)
3 Periodontal Visits
3 Periodontal maintenance cleanings
1 Exam with Dr. Glaser (minimum)
1 Emergency exam with Dr. Glaser
Save $185/year with
$768 annual payment
For patients who pursue
their oral health with vigor.
(ADA code 4910 tooth cleaning)
4 Periodontal Visits
4 Periodontal cleanings
2 Periodontal exams with Dr. Glaser
2 Emergency exams with Dr. Glaser
2 Virtual hygiene coaching calls
2 Oral DNA microbial tests
2 Tubes of prescription toothpaste
Save $384/year with
$1,238 annual payment
It's Time to Take Control of
Your Annual Dental Care
Become a Dental Wellness Member Today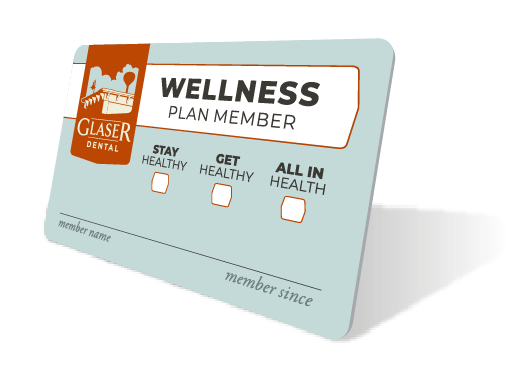 Legal & Disclaimers
Glaser Dental's Wellness Membership is NOT insurance but a payment arrangement provided by Tyler Glaser Dental, DDS for services rendered. Memberships are provided exclusively to uninsured patients of our practice and shall not be considered pre-payment for future services or payment for access to discounted services. Rather, our patient members are electing to make regular monthly subscription payments for preventive care instead of paying at the time of each service. Payment for any cosmetic or restorative treatment is due at the time of service. Membership dues must be current in order to receive services. A lapse of 28 days in dues will require a reactivation fee of six months dues. Membership discounts may not be combined with any other offers or discounts. It is solely the patient's responsibility to schedule and keep their appointments. No refunds will be provided for dues paid under any circumstances, including failure to schedule and maintain appointments. A patient member's monthly agreement is with the legal entity of Tyler Glaser Dental, DDS. Fees for dental services may change at any time.
Each Wellness Membership Plan is an annual, one-year contract between the patient and Glaser Dental. Rates are subject to change annually. Glaser Dental LLC reserves the right to change the plan at its discretion. Limitations and exclusions may apply.
Terms of Glaser Dental's Wellness Membership
This is a dental savings plan and is NOT dental insurance. It cannot be combined with any other dental insurance. The effective date of this plan is the day you sign the agreement, and the automatic renewal date is 1 year after the agreement date. Exams, x-rays, cleanings, and fluoride must be performed within the year of enrollment and cannot be carried over to the next year. Payment is due at the time of service for any work not covered 100% by this plan. Payment of less than the plan's duration membership fees may result in being charged usual and customary fees for all services (including those already provided) and being charged remaining months' fees in a lump sum. This plan is only accepted at Glaser Dental. Therefore, if you are referred to a specialist, they will NOT offer these discounts. Should there be dental treatment needed following any type of injury where a lawsuit, and therefore outside medical, care, disability, or workers comp type insurances are involved, this discount plan cannot be used. This plan is non-transferable. Family members cannot be substituted for another family member. This plan is non-refundable. No refunds are given if the patient chooses not to use their dental plan after the first 30 days following enrollment. Savings can be applied to eligible dental services only, products sold in the office are not included. A fee (based on length of appointment) may be incurred for each broken appointment without 24-hour advance notice. Appointment times are limited, and it is the responsibility of the member/patient to schedule their visits. Membership will automatically renew on the anniversary date unless a written request to cancel is received 30 days prior to the renewal date. If there are any changes to the annual investment/cost of the program, we will notify you in writing by email or letter 60 days prior to your renewal anniversary.