Meet Our Experienced Team
Our entire culture is designed to treat people with respect and provide excellent patient care. At Glaser Dental, we believe culture matters. We believe that happier teams lead to happier patients and have the happiest team in the dental industry. Each of our team members works their hardest to provide quality dental care every step of the way.
We look forward to meeting you!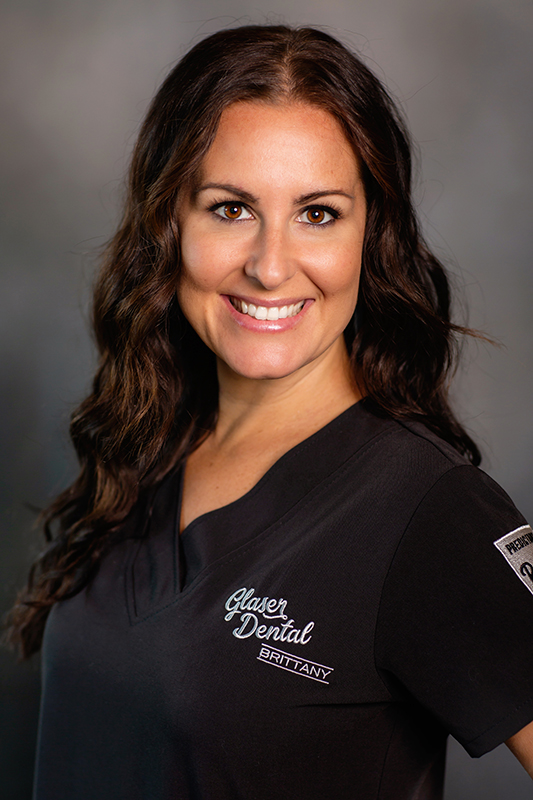 Brittany
Dental Hygienist
I've been an RDH (dental hygienist) since 2011 and a Glaser Gal since 2015 :) I perform additional roles in the clinic, including dental assistant for Dr. Glaser and coordinating patients' oral health goals with their treatment needs.
I want my patients to feel heard, respected, educated, and comfortable. I'm honored that my patients trust me to care for them and take that job very seriously. I strive to do so with my best ability tailored to each individual. I am very busy with my three children and puppy Lola when I'm not in the office. Our family loves to escape to the Northwoods as much as possible to recharge and connect.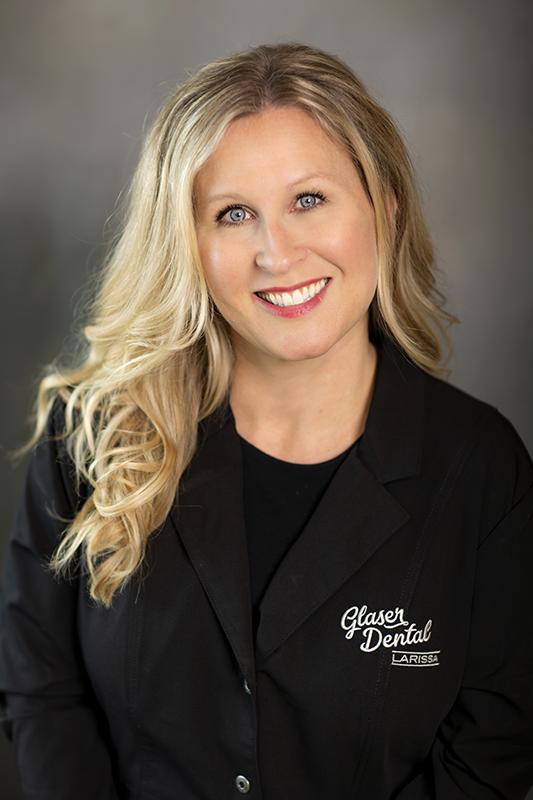 Larissa
New Patient Coordinator
Hello! I am the one that will greet you as you walk in:) My job is to make sure you are comfortable and prepared for your appointment. If you have requested Comfort Menu add on's, or if you need to update your contact information or schedule an appointment- I am your person! Using our patient communication platform (Solution Reach), I communicate with patients about everything from upcoming appointments to referrals. Since 2012 I have been committed to helping Dr. Glaser create a unique atmosphere for our patients.
Larissa is a 2002 graduate of the University of Minnesota. Her major was English, but she must have minored in NICE. Larrisa loves to stay active, and her favorite outdoor activity is walking her pug named Gerri. She has 3 very active kids, which means she is in the car a lot going from the pool to the track to the rink :)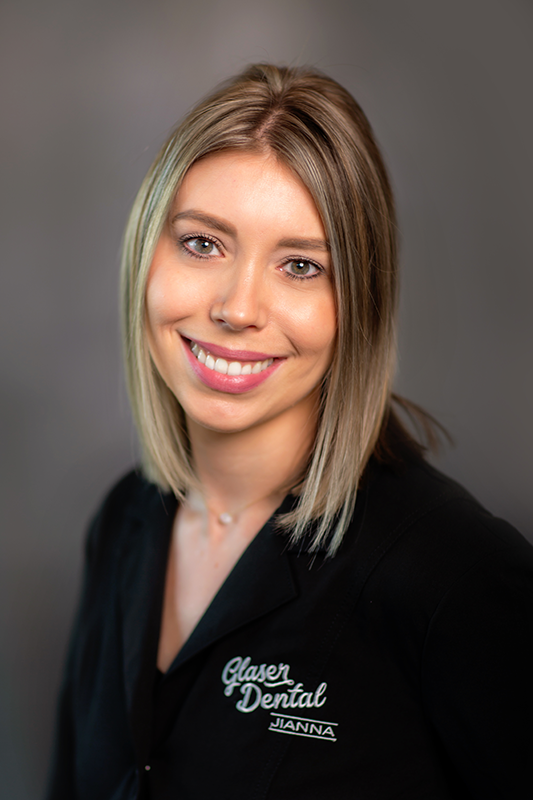 Jianna
Insurance & Billing Specialist
Jianna is responsible for filing all insurance claims at Glaser Dental. Jianna is a 2010 graduate of the Dental Assistant program at Madison Area Technical College, and a 2015 graduate from Northcentral Technical College in Health Care Business Services. She is your partner for all paperwork with knowledgeable attention to detail and a warm demeanor.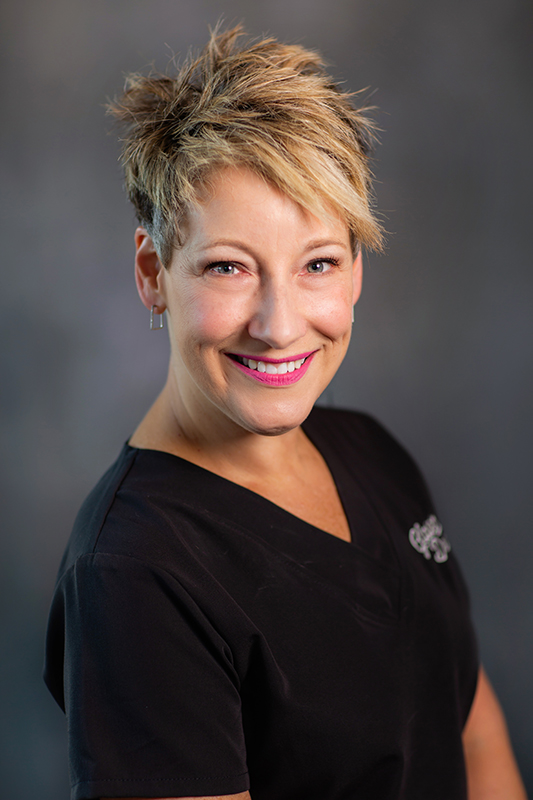 Karin
Dental Hygienist
I have over 25 years of RDH (dental hygiene experience). I have a bachelor's Degree from the University of Minnesota, and a deep passion for educating my patients about the possibilities of what a healthy mouth can look and feel like.
Whether it is uncovering periodontal disease, discussing sleep issues, or explaining the chewing system – I love playing a positive role in my patient's oral health journey. Getting healthy is life-changing, and I love that I get to share that experience with them.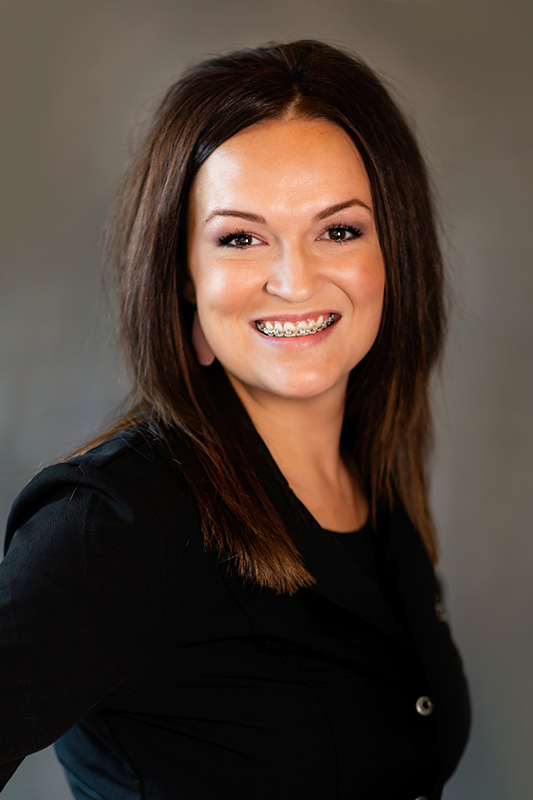 Kylee
Treatment Plan Coordinator
Kylee has worked in the healthcare industry and transitioned to the Glaser business team in 2016. She is finishing a degree in Healthcare Business Services at North Central Technical College and has a gift for working with patient's treatment plans to maximize their dental benefits. A background in clinical dental treatment combined with her healthcare business training gives Kylee a broad understanding to help patients understand their recommended treatment.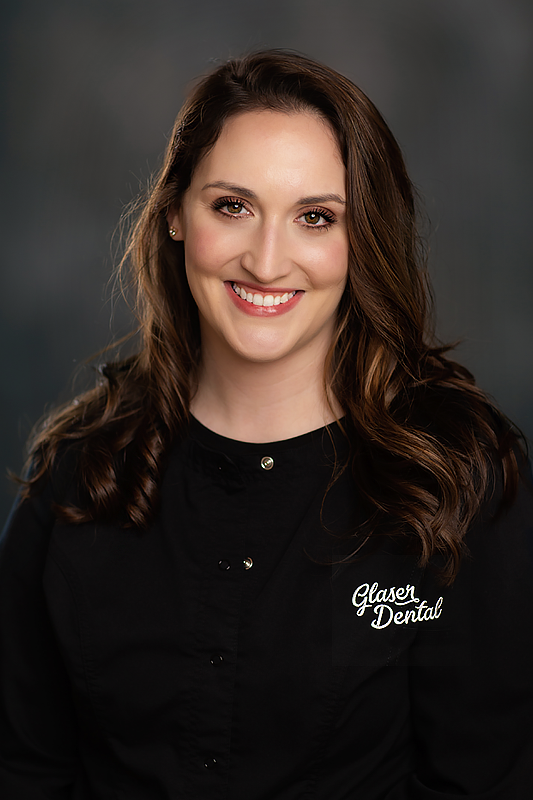 Whitney
Oral Health Partner
I started my journey in dentistry in 2009 as a Dental Assistant and later continued on that path as a Dental Hygienist in 2016. I love to fuel my patients curiosity whether it be in patient education, periodontal therapy or the connection of oral health to whole body health. I aspire to have my patients leave feeling more relaxed than they came in.